Dingo Gear Reinforced Bite Wedge
Dingo Gear Reinforced Bite Wedge
Teether wedge reinforced with jute designed to work on the correct grip of puppies, young and large dogs. Springy, resistant to biting, dirt and damage. It has an internal reinforcement made of a tube, which prevents its deformation. Equipped with three handles and a ring for attaching a leash or rope. Thanks to its endurance, it is used by trainers to train strong dogs. Handcrafted with great attention to every detail to make it safe for the dog and the helper.
The teether wedge is not intended for independent play by a dog.
It is offered in two options: soft and hard.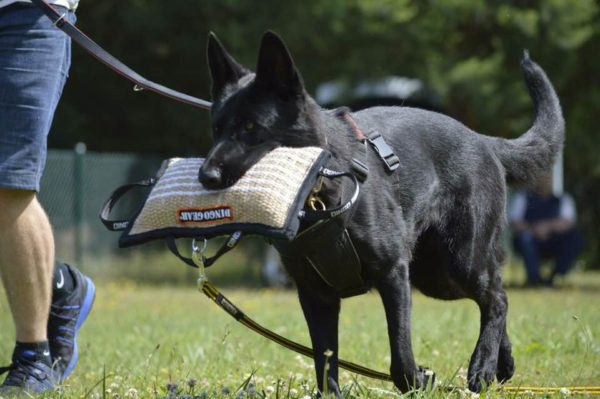 Characteristics of the reinforced wedge model:
-contoured teether with the correct thickness

-jute reinforced with polypropylene guarantees durability of use

-thanks to its properties, jute allows the dog to dig deeply with its teeth without the risk of damaging it

-internal reinforcement with a tube prevents its deformation

-three handles for the trainer

-grips made of a wide and soft tape reinforced with rubber provide confidence and comfort in holding the teether

-a ring for fastening the leash

-solid and strong stitching guarantee high durability

-parameters:
| | | | | | |
| --- | --- | --- | --- | --- | --- |
| Index | Type | Libra | Length | Width | Thickness |
| S00520 | soft | 1.4 kg | 38cm | 23cm | 11cm |
| S00521 | hard | 1.5 kg | 38cm | 23cm | 11cm |
Purpose of the jute wedge teether:
-Training of working and sports dogs

-IGP training

-K9 exercises

-Training the correct grip of the dog

-Perfecting the dog's full grip

-Used as a retrieve item

-An additional handle allows you to attach a leash or a line to the teether and increases the scope of use
Manufactured by hand at the request of Dingo Gear in Zakład Produkcyjno "Dingo" Sp. z o. o. in Poland.