IGP/IPO Protection Blinds
IGP/IPO Protection Blinds
FULL-SIZE IGP/IPO Blinds are a special order product.  Please allow 4-6 weeks for delivery.  If you have any questions please feel free to contact our service department at: service@epochcanine.com
A lightweight folding blind/tent with three legs for a helper, the so-called hideout is intended for the training of search and barking skills by dogs. Used by trainers at K9 and IGP for training. Made by hand with heavy-duty fabric material on the basis of a metal structure, so that it can be used for years.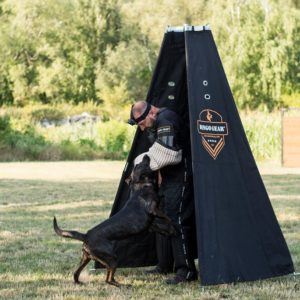 Characteristics of the tent, hideouts for the helper:
-galvanized metal structure

-three legs

-metal triangle for mounting the legs

-two walls

-folding

-waterproof material - Cordura

-cover included

-parameters:
Index
Libra
Height
Width of the wall
The width of the whole
Thickness

S02910

9.8 kg

230cm

  top - 27cm

bottom - 124cm

top - 54cm

bottom - 248cm

21cm
The purpose of the tent for the helper:
-dogs training

- preserving the skills of revolving

- the waiting of the helper

- IGP training and trialing
Handcrafted at the request of Dingo Gear in Zakład Produkcyjno Dingo Sp. z o. o. in Poland.