The multifunctional SYSTEM COBRA harness for work and training K9 is extremely strong and durable. The ergonomic construction of the harness, wide tightening straps, and a cushion on the chest provide the dog with great comfort while tracking, working on a track, searching for drugs, explosives, or during defense training. Strong buckle, the so-called COBRA AUSTRIALPIN, a renowned Austrian company (used by mountaineers for climbing), guarantees reliability during use. The harness allows you to lead the dog on a rope, leash, or with a special built-in handle. We made them by hand with very high accuracy so that they could be used for any large breed dog, e.g. German or Belgian Shepherd. These professional harnesses will meet the expectations of the most demanding trainers.
Characteristics of the Cobra System Dog Harness:
-Cushion on the chest

 -Adjustable harness straps

-On the left side of the dog's head - Cobra buckle

-Cobra buckle has a quick release and fastening mechanism

-Welded chrome D-ring

-Special built-in handle for short-term holding

-Extreme durability and prolonged resistance to strong mechanical stresses, such as tearing, and long-term stresses

-Resistance to dirt, water, frost

-Washable at 30 degrees Celsius

-Personalization of the inscription/name attached with Velcro

-sizes and parameters:
Index

Size

 

 Belt (Belly)

Length

Width

Thickness

Weight

S03195

M

  60-75CM

42cm

10.0 cm

0.3 cm

0.5 kg

S03196

L

  75-90CM

42cm

10.0 cm

0.3 cm

0.55 kg

S03197

XL

  90-105CM

42cm

10.0 cm

0.3 cm

0.6 kg
 The method of measuring the harness B - the circumference of the dog's belly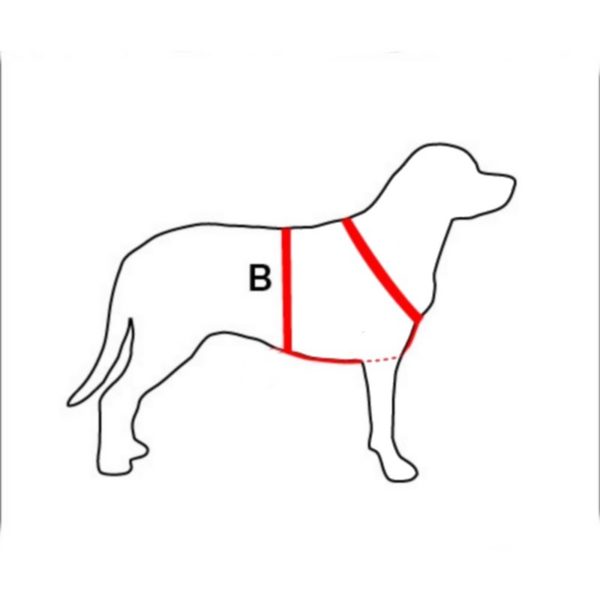 Purpose of the harness for work for the dog:

-Training and improving the dog in the field of defense in the muzzle and sharp

-The dog working on the track

-Searching for corpses, drugs, explosives, tobacco, etc.

-Leading on a rope, a leash

-Short holding with a specially built-in handle
Manufactured by hand at the request of Dingo Gear in Zakład Produkcyjno "Dingo" Sp. z o. o. in Poland.