Working Dog Nylon Harness
Working Dog Nylon Harness
A multifunctional harness made of nylon tape for a dog allows the animal to move freely. With well-adjusted equipment, the dog does not feel any pressure and the load on the chest is even. The harness ensures the full comfort and safety of the four-legged friend. They can be used during walks, patrols as well as training and combat activities. They have been tested by trainers working in professional training centers in Europe. We made them by hand with great care, because we know how important their durability is during use.
The harness is black in four sizes: S, M, L, XL
Characteristic features of a work harness for a dog:
-wide straps around the torso are made of nylon tape

-harness straps are adjustable

-the angle of the stripes and the construction of the forechest enable the dog to demonstrate the possibilities of attack

-easy to put on thanks to the plastic buckle on the left side of the dog's head

-cushion on the forechest providing great comfort for the dog's work

-Welded chrome semicircle to fasten the lanyard

-Special built-in handle for short-term holding

-extreme durability and prolonged resistance to strong mechanical stresses, such as tearing, and long-term stresses

-resistance to: dirt, water, frost

-washable at 30 degrees Celsius

-personalization of the inscription/name attached with Velcro

-size and parameters:
Index

Size

 

 Belt (Belly)

Length

Width

Thickness

Weight

S03198

S.

50-60CM

42cm

10.0 cm

0.3 cm

0.5 kg

S03199

M.

  60-75CM

42cm

10.0 cm

0.3 cm

0.5 kg

 S03200

L.

75-90CM

42cm

10.0 cm

0.3 cm

0.55 kg

 S03201

XL

  90-105CM

42cm

10.0 cm

0.3 cm

0.6 kg
When choosing the size of the harness, measure the circumference of the dog's abdomen (B - see the picture)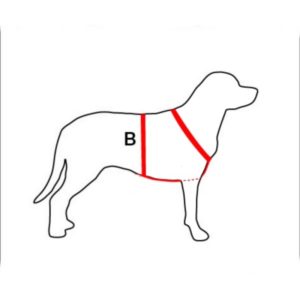 Purpose of the dog harness:
-training and improving the dog in the field of defense in the muzzle and sharp

-dog work on the track - search

-searching for corpses, drugs, explosives, tobacco, etc.

-leading on a rope, a leash

-short holding with a specially built-in handle
Manufactured by hand at the request of Dingo Gear in Zakład Produkcyjno "Dingo" Sp. z o. o. in Poland.